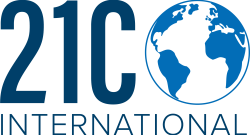 Modern Biblical Training for
Pastors in Developing Nations
Most of the world's pastors have no access to sound, formal biblical training.

21C International brings it to them on their terms.
In the Global South, Christianity is on fire with growth.
And current biblical training programs aren't keeping up.
Millions of under-resourced pastors can't gain entry to them.
Non-Western cultures can't relate to them.
New churches can't thrive while waiting for them.
So 21C International is building new biblical training models for the global age. We're preparing a rising generation of pastors and church leaders to disciple, encourage, and care for a new generation of  Christians.
The world has thousands of biblical training programs.
But they don't work for most of the world's pastors, and they don't grow Christianity on a world-sized scale.
21C International has the reach and results that others don't.
Here's how.
Watch:
Pastor Maureen's Story
"After receiving the training, I learned so much, and saw that I was blessed. I went on and started a training somewhere else, where I am with students whom I have been teaching the Word of God."
 "I want to thank God that our pilot program exceeded our expectations. We hoped for 20 groups training 200 pastors. We have 25 groups training 295 pastors."
"I love the teaching of Ephesians. The teaching on the supremacy of Jesus Christ for us who believe and for the church is just too wonderful. Surely I surrender to Jesus Christ wholly and will serve him as I reach out to other people. God bless the work of Dr Steve."
"...we in Africa especially, the villagers, lack Biblical teaching. Almost all church leaders have not gone to Bible school, including me personally. … I'm blessed with scriptural teaching you made from the book Ephesians."
"Almost of the pastors [I work with] are Bible illiterates. We are hoping that your materials can help our pastors … Please pray and come to our rescue in training the local pastors."
"We have 98 Baptist churches. Every year I visit all the churches. Being a leader without knowledge, it's hard to train them to grow into maturity but I believe that the Holy Spirit is guiding me day to day. After seeing your team with much concern for church leaders, I would like to join your training program."
"We thank God very much every day when we receive instruction through God's anointed one who is our brother and our friend, servant and Doctor Steven White.  …we welcome you here in Tanzania."
"Normally we don't have people help us understand like this. The same issues they faced in Ephesians are the issues we face in Uganda and Kenya. What I've learned most is the subject of unity. I'm determined to unite with the other churches in my area. I'm not going to go back to Uganda the same."
"I was focusing about the videos and the verses; I am really attached with these messages. And I am thinking of taking this gospel to my people in the church and other churches here in Malawi. Please if possible send me more and it will help us to grow spiritually."
You're Part of This Adventure
When Christian leaders across the globe look for biblical training, vast numbers of them come away lost, uninspired, or empty-handed.
We cross oceans to fill that gap. And we need you on the journey.
Join us as a prayer warrior, donor, or volunteer.